Sightseeing bus tour support campaign! !
For those who are thinking of taking a tour of Minamiboso by taking the Tokyo Wan Ferry on a sightseeing bus, the Tokyo Wan Ferry sightseeing bus shipping fee will be free for up to XNUMX vehicles.
*This project utilizes the "Futtsu City Tourist Route Usage Promotion Project Subsidy System".
* In addition to making a reservation, you will need to apply using a special form.

(Application ・Please apply by fax from 9:00 to 17:00 on weekdays.)




About application
Application
Please fill in the necessary information on the dedicated reservation application form and apply by fax.

Click here for a special reservation application form

FAXXNUMX-XNUMX-XNUMX


To the sales department of Tokyo Wan Ferry Co., Ltd.

(business hours weekdays 9:00-17:00)
---
Necessary documents to the applicant
・Dedicated reservation application form
・A copy of the vehicle inspection certificate of the bus to be boarded (in the case of multiple buses, one by one)
·questionnaire
---
Application conditions
・The condition is that you board the Tokyo Wan Ferry and visit Futtsu City, Kyonan Town, Minamiboso City, Tateyama City, and Kamogawa City.
・Please cooperate with the questionnaire.
Questionnaire form

---
Dates
From August 2022, 8 (Monday) to February 1, 2023 (Tuesday)
---
---
Passenger fare
If you apply for this business, the bus transportation fee will be free, but the passenger fare will be as follows.
Passenger fare
Classification
One Way
round trip
Adult
900 JPY
1,600 JPY
<span>Grade 1-2</span>
450 JPY
800 JPY
Group passenger discount fare (XNUMX people or more)
Classification
One Way
round trip
Adult
760 JPY
1,330 JPY
Student group


(More than junior high school students)

640 JPY
1,130 JPY
Student group


(elementary school/kindergarten)

380 JPY
660 JPY
---
---
① Even if two or more of the above types of groups are mixed together, and either group has less than XNUMX people, if the total number of people is XNUMX or more, it will be treated as a group and individual discount fares will be applied.
② Leaders (faculties and staff) of student groups are counted as members of the group and the same discounted fares apply.
Click here to apply for student groups
(XNUMX) Leaders of non-student groups (children's associations, etc.) will be treated in the same way as (XNUMX). *There is no charge-free treatment for group guests.
④Discounts for persons with disabilities are half of the one-way passenger fare. *Half price of 900 yen for adults and 450 yen for elementary school students.
A separate application for exemption is required for groups of people with disabilities.
◆ Eligible for discounts for people with disabilities ・ ・ ・ Physical / mental / intellectual
Click here for exemption application
---
---
To all of the group tours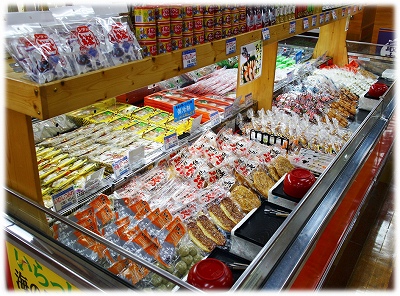 Kanaya Ferry Service Center, a souvenir shop in Chiba / Kanaya Port
Go to "Food Color Market"!
Full of benefits!Please consider making a reservation in advance.