To travel agencies and group travel secretaries
About group boarding
---

Acceptance of boarding reservations ・ Reservations are limited to buses and group guests.Passenger cars will be boarded on a first-come, first-served basis.


* If the reserved vehicle has not arrived within XNUMX minutes before boarding, it will be considered as canceled.

Vessel tickets (coupons) that have not been contracted with us cannot be used.
Procedures and boarding flow on the day
Receptionist
When you arrive at the platform, please complete the reception at the counter inside the terminal building.
Boarding
Boarding starts XNUMX minutes before departure time. Customers should board the bus XNUMX minutes in advance.
On board
Once inside the ship, get off the bus, go up the stairs and relax in your room.All seats are unreserved.
About disembarkation
A guidance broadcast about disembarkation will be broadcast XNUMX minutes before berthing.Please return to the bus and wait while you are on the bus.You will be disembarked while you are on the bus.
(Note) If you board the bus, only the stairs will reach the guest room.If you are using a wheelchair or have a physical disability, please inform the staff in advance.Please board from the slope etc.
Car freight charges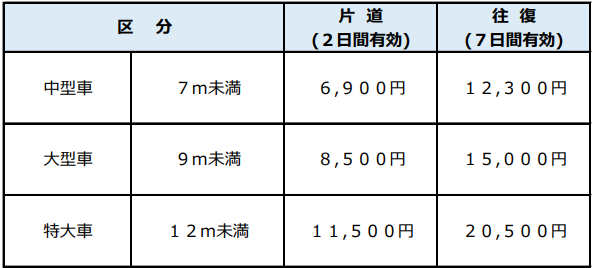 Note) The above (bus) fare includes passenger fares for up to XNUMX drivers, XNUMX guide, and XNUMX tour conductor.Passenger fares apply for other passengers.
Group discount fares

Note) Group fee is for XNUMX people or more.
① Even if two or more of the above types of groups are mixed together, and either group has less than XNUMX people, if the total number of people is XNUMX or more, it will be treated as a group and individual discount fares will be applied.
② Leaders (faculties and staff) of student groups are counted as members of the group and the same discounted fares apply.
Click here to apply for student groups
③ Leaders of groups other than students (children's associations, etc.) will be treated in the same way as ①.
* There is no free treatment for group guests.
Click here for exemption application
④ The discount for people with disabilities is half the one-way passenger fare.
* Half price of 900 yen for adults and 450 yen for elementary school students.
A separate application for exemption is required for groups of people with disabilities.
◆ Eligible for discounts for people with disabilities ・ ・ ・ Physical / mental / intellectual
To all of the group tours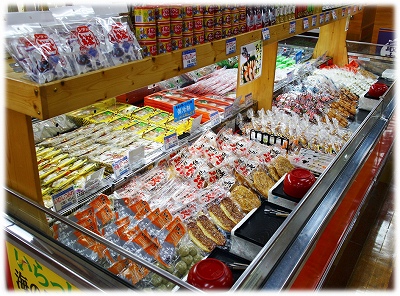 Kanaya Ferry Service Center, a souvenir shop in Chiba / Kanaya Port
Go to "Food Color Market"!
Full of benefits!Please consider making a reservation in advance.